General Information
We recognize you play a significant role in the decisions, opportunities, and experiences your student has during their time at the University of Dayton. As their trusted partners and confidants, we want to ensure we equip you with resources to support your student before, during and after their time abroad. We encourage you to explore our website as a whole; the resources, brochure pages, and information provided throughout this site are critical to better understanding international travel, program selection and logistics. These family-specific pages provide a better understanding of education abroad from the perspective of those supporting students from the comforts and familiarity of home.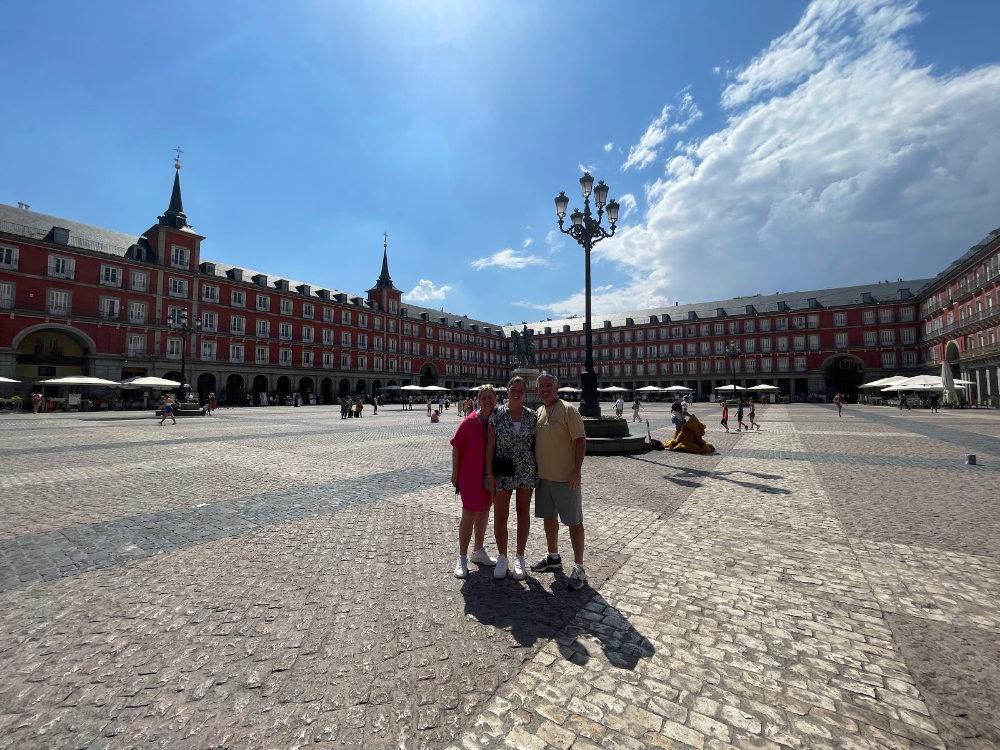 Programs Types
The Global and Intercultural Affairs (GIA) Center provides a wide array of programming made to fit the needs of our diverse student population. Our goal is to work with each student to help them find the program that suits their personal, academic and career goals. That program may be a one week integrated learning program that aligns with a fall or spring UD course, or it could be a semester-long experience that allows students to dive into their major-related curriculum with international faculty. We, as your student's advisors, strive to find the program that works best for them, no matter their comfort level, academic curriculum, or budget. To learn more about our various types of programming, please visit our
Programs Overview
and the hyperlinked sub categories that are provided.
However, as parents and family members of our students, we recognize that there are some commonly asked questions about our programs that go beyond the overview.
FAQs for the below programming will be updated soon.
Faculty Led Programming Semester Programming
Expenses & Financial Aid
General information about
Tuition, Fees, & Funding
can be found on our designated resource tab, but it is good to be aware of the nuances of each program, and the billing structure of each.
GIA Center Advisors do not have access to the financial aid packages and awards of our student population.
Therefore, students are regularly referred to
Flyer Student Services
for specifics about their aid in relation to their given program.
However, it is important to know that all UD programming will be broken into billable and nonbillable costs. Billable costs will be any expense that will be paid directly to the University of Dayton. Depending on the program, this
may
include: tuition, program fees, housing, etc. Nonbillable fees will be required costs that will be charged by an outside source, or will be at the expense of the student onsite. These
may
include: housing, meals, transportation, spending money, etc. These are clearly outlined on the Costs/Scholarships Tabs of each program brochure page.
We encourage students to take ownership of gathering the information they need from their various support offices around campus. They are the key to connecting the dots in order to make wise decisions about cost and expectations. Within their program applications, as well as during their pre-departure sessions, they will be asked to read, acknowledge, and sometimes act upon these responsibilities. We ask that you support and encourage them to seek the information and advocate for themselves so we can all better help prepare them for a smooth transition abroad.
Scholarships
Students can find a list of available
UD scholarships
and
external scholarships
on our website under the Tuition, Fees & Funding section.
Some UD Scholarships require an application process while others do not and students are automatically considered for them after they apply to an education abroad program. Details pertaining to the application process are outlined in each award description. All UD Scholarships for education abroad take into consideration the student's financial need, as determined by UD's Financial Aid Office, based on the student's FAFSA. Therefore, it is important that a student has an updated FAFSA on file if they want to be considered for scholarships.
The external scholarships tab highlights prominent, or affiliated, funding options for students going abroad. Details about each scholarship, their eligibility requirements and their applications can be referenced through our site. Keep in mind, this list does not exhaust all funding opportunities that may exist, so students are encouraged to look for more options, just as they may have when planning to attend university.
One excellent scholarship that we highlight is the
Gilman International Scholarship
. This external application is available to Pell Grant recipients and due dates can be found on our site. As mentioned previously, specific financial aid questions should be directed to
Flyer Student Services.
Safety & Support
The Health & Safety of your student is our top priority, but as we state on our resource page, 'there are inherent risks anytime you travel'. We understand that sending your students off into the world can be a bit more unnerving than preparing them to move to Dayton, Ohio. We encourage you to read our Health & Safety page linked above for more details on everything from health insurance, to emergency support, to our 24 hour emergency line.
Being in most other countries, statistically, can be seen as safer than many locations in the United States. Yet, we find the most common issues students encounter are either pickpocketing as targeted tourists or incidents that take place while under the influence.
How else can you support your child in having a safe and memorable experience abroad?
Some suggestions include:
Remind them about the importance of staying vigilant (carrying belongings safely, paying attention to surroundings, ensuring they know where key documents are, etc.)
Have honest conversations about alcohol use abroad and the additional risks of being under the influence in a new environment (and outside your place of citizenship).
Encourage them to get a medical check-up before their program and to ensure they have a plan for their prescriptions.
University provided Student Health Insurance and International SOS
If a student stays abroad for vacation post the completion of their program, please note that their university provided international health insurance and emergency support coverage includes 14 days of sojourn travel. That means it will cover them an additional 14 days total before or after their official program dates. That means, for example, if they arrive 7 days prior to their program start, they will have an additional 7 days of coverage after their program ends.